Case 170C (CASE CRAWLER EXCAVATOR (1/90-12/91))
CRAWLER EXCAVATORS Case 170C
/case/170C/m83/s-236.html / 02 ENGINE / ENGINE MOUNTED COMPONENTS AND ADAPTING PARTS
For Deutz engines prior to serial number 6894737, order oil filter P1350575, fuel filter P1050595, fuel pump strainer P143281, alternator belt P938768 and cylinders P1343253. For engines having serial number 6894737 and after, order P3543219 cylinders in place of P1343253. Must go through Duetz for engine parts not shown in this catalog. 170C used Duetz engine model BF6L513R. Duetz phone 708-879-3300.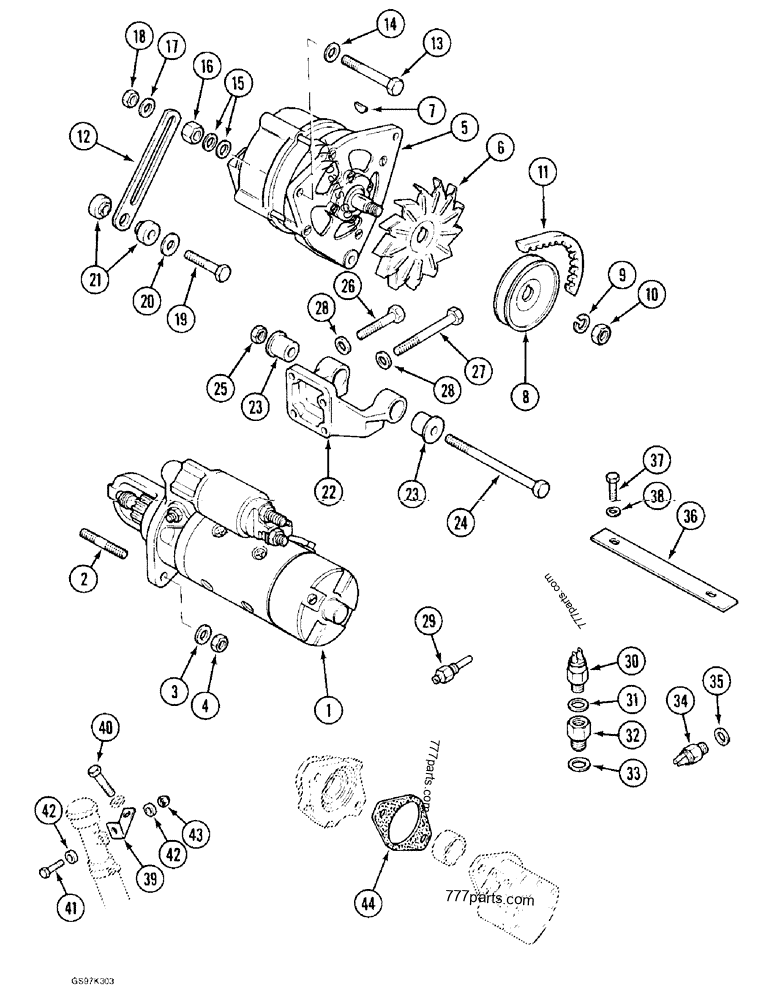 | # | Part No. | Description | Qty |
| --- | --- | --- | --- |
| 1 | P2***21 | DEUTZ PART; STARTER ASSEMBLY - engine, parts list Figure 4-6 | 1 |
| 2 | P1***66 | DEUTZ PART; STUD - starter mounting | 3 |
| 3 | P3***34 | WASHER; - special, studs, order from Deutz | 3 |
| 4 | 82***10 | NUT,M10, Cl 8; (Replaces nut P34166) M10, Cl 8 | 3 |
| 5 | REF | INSTRUCTION; ALTERNATOR ASSEMBLY - electrical, parts list Figure 4-8 | 1 |
| 6 | P3***17 | FAN; - alternator | 1 |
| 7 | P2***43 | DEUTZ PART; KEY - fan and pulley to shaft, order from Deutz | 1 |
| 8 | P2***57 | DEUTZ PART; PULLEY - alternator (Replaces pulley P1538568) | 1 |
| 9 | P3***45 | WASHER; - lock, shaft nut, order from Deutz | 1 |
| 10 | P1***66 | DEUTZ PART; NUT - special, alternator shaft (Replaces nut P1037469) | 1 |
| 11 | P9***68 | BELT; - alternator drive | 1 |
| 12 | P2***45 | DEUTZ PART; STRAP - alternator adjusting, order from Deutz | 1 |
| 13 | P3***49 | SCREW; BOLT - hex, 8 mm x 55 mm, Serial Range: strap-alternator | 1 |
| 14 | P1***43 | DEUTZ PART; WASHER - special, alternator bolt, order from Deutz | 1 |
| 15 | P1***02 | DEUTZ PART; SPACER - strap to alternator, order from Deutz | |
| 16 | P5***38 | SPACER; NUT - alternator strap | 1 |
| 17 | P1***25 | DEUTZ PART; WASHER - special, alternator strap, order from Deutz | 1 |
| 18 | P3***13 | NUT; - hex, 8 mm | 1 |
| 19 | P1***84 | SCREW; BOLT - hex, 8 mm x 35 mm, Serial Range: strap-engine | 1 |
| 20 | P1***43 | DEUTZ PART; WASHER - special, strap to engine, order from Deutz | 1 |
| 21 | P2***88 | DEUTZ PART; BUSHING - alternator strap, order from Deutz | 2 |
| | P3***18 | BRACKET; ASSEMBLY - alternator mounting, Includes: Ref. 22, 23 | 1 |
| 22 | NSS | NOT SOLD SEPARAT; BRACKET - alternator mounting, order bracket assembly P3743218 | 1 |
| 23 | P7***91 | DEUTZ PART; BUSHING - alternator bracket, order from Deutz | 2 |
| 24 | 81***20 | BOLT,Hex, M8 x 1.25 x 120mm, Cl 8.8; - hex, 8 - 1.25 x 120 mm, bracket to alternator (Replaces bolt P133866) | 1 |
| 25 | P3***13 | NUT; - hex, 8 mm, alternator bolt | 1 |
| 26 | P1***84 | SCREW; BOLT - hex, 8 mm x 35 mm, Serial Range: bracket-engine | 3 |
| 27 | 81***80 | BOLT,Hex, M8 x 1.25 x 80mm, Cl 8.8; - hex, 8 - 1.25 x 80 mm, Bracket to engine (Replaces bolt P133849) | 1 |
| 28 | P1***43 | DEUTZ PART; SPACER - special, bracket mounting bolt, order from Deutz | 4 |
| 29 | P3***98 | GAUGE; SENDER - engine temperature warning, see page 4-5 for electrical harness | 1 |
| 30 | P1***56 | SWITCH; SENDER - engine oil pressure, see page 4-5 for electrical harness | 1 |
| 31 | P2***29 | COMPOSITE SEAL; SEAL - oil pressure, Serial Range: sender-adapter | 1 |
| 32 | P1***10 | RESTRICTOR; ADAPTER -, Serial Range: sender-engine | 1 |
| 33 | P5***97 | COPPER SEAL; SEAL - adapter | 1 |
| 34 | P6***94 | DEUTZ PART; SENDER - engine oil pressure for hourmeter, see page 4-5 for electrical harness, order from Deutz | 1 |
| 35 | P4***39 | WASHER, SEALING; SEAL -, Serial Range: sender-engine | 1 |
| 36 | P3***58 | SUPPORT; PLATE - support, harness | 1 |
| 37 | 12***04 | BOLT,Hex, M8 x 1.25 x 20mm, Cl 8.8; BOLT, Hex, M8 x 20, 8.8 | 2 |
| 38 | P3***02 | WASHER; - flat, 8 mm | 2 |
| 39 | P3***27 | SUPPORT; BRACKET - mounting, oil filler tube | 1 |
| 40 | 61***35 | BOLT,Hex, M10 x 1.5 x 35mm, Cl 8.8, Full Thd; - hex, full threads, 10 - 1.5 x 35 mm, plated, bracket to engine | 1 |
| 41 | P1***84 | SCREW; BOLT - hex, 8 mm x 35 mm, filler, Serial Range: tube-bracket | 1 |
| 42 | P3***94 | WASHER; SPACER - bolt, 6 mm thick | 2 |
| 43 | 83***08 | NUT,M8 x 1.25, Cl 8.8; NUT, (Replaces nut P134596) M8 x 1.25, Cl 8 | 1 |
| 44 | P8***64 | SEAL; - cooling fan drive adapter | 1 |
| | P3***38 | DEUTZ PART; TUBE oil fill, in phantom at lower left corner of artwork | 1 |
| | P5***56 | DEUTZ PART; HOSE oil fill, in phantom at lower left corner of artwork | 1 |
| | P7***20 | DEUTZ PART; CAP oil fill, in phantom at lower left corner of artwork | 1 |
ENGINE MOUNTED COMPONENTS AND ADAPTING PARTS - CRAWLER EXCAVATORS Case 170C (CASE CRAWLER EXCAVATOR (1/90-12/91)) | 777parts.com